| | |
| --- | --- |
| | Click here to see "Questions and Answers from the Field", our new blog to allow readers to share their ideas and suggestions about classroom management. |
---
Events and Activities
---
Workshop for New Teachers: "Surviving Your First Year Teaching: Strategies and Suggestions"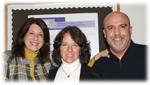 Profs. Jan Valle, Beverly Falk and Jesus Fraga (left to right)
On Tuesday, November 17th, Professors Jesus Fraga (Bilingual Education and TESOL), Beverly Falk (Early Childhood Education) and Jan Valle (Childhood Education) will join a panel of graduate students who have successfully managed their first year of teaching. Come and learn best practices, strategies, and management techniques to make your classroom environment immediately more productive and rewarding for you and your students. This session will be held on Tuesday, November 17, 2009 from 4:30 -7:00 pm in NAC 4/220B. Registration is required and space is limited. Register by e-mail to bilingual@ccny.cuny.edu no later than Friday, November 13, 2009. Light refreshments will be served. Alumni are welcome to share their personal stories.
Back to Top
---
Technology Workshops in November and December
Dr. Sheila Gersh
Dr. Sheila Gersh will offer the following free workshops in November and December: "Engage Your Students with Digital Stories" on Tuesday, November 17th ; "Using PowerPoint in your Classroom" on Wednesday, December 16th and "Creating a ScienceQuest Web Site to Enhance Student Engagement in Science"; on Tuesday, December 22nd. These technology integration workshops are offered (on a space available basis) to SOE students, faculty, alumni and teachers in collaborating schools. Each workshop is from 8:30 am to 3:00 pm. Please contact sgersh@ccny.cuny.edu for room information and to register. (Read More)
Back to Top
---
Math Seminars to Improve High School and Middle School Math Achievement
Beginning November 19, 2009, monthly seminars will be offered at no cost to enable assistant principals of mathematics, math coaches, lead teachers and teacher leaders to learn content specifically referenced to new math curricula including: strategies for improving instruction, hands-on techniques in the classroom, methods of differentiating instruction, teaching to different learners, and using technology applications in the math classroom. Seminars will be led by national and regional experts in the field to help participants at every support level to strengthen their ability to work with teachers and to help them to improve student performance. In addition, experienced math supervisors will provide on-site mentoring and professional support throughout the academic year, 2009-2010. As space is limited, we recommend that you enroll now. This program is made possible by grants from the Kaplan Foundation and the Petrie Foundation. Read more to enroll.
Back to Top
---
News and Notes
---
Two Fulbright Award Winners from Department of Childhood Education
Prof. Catherine Franklin
Prof. Amita Gupta
Two faculty members in the Department of Childhood Education have received Fulbright awards for the 2009-2010 academic year. Professor Amita Gupta received a Fulbright Research Grant from the South and Central Asia Regional Research program to conduct research on current urban Early Childhood Education and teacher education policies and practices in India, Sri Lanka and the Maldives. She is now in New Delhi and will travel throughout India this fall. Professor Catherine Franklin received a Fulbright Lecturer Award to travel and lecture in the Republic of Slovakia. Her focus is on civic education as it is taught in emerging democracies. She is working to adapt her curriculum and drama teaching methodology by aligning it to another country's cultural values and traditions.
Back to Top
---
November Web Sites of Interest
Digital Storytelling. This topic will be addressed at Dr. Gersh's November 17th workshop. To learn more about digital stories go to the Center for Digital Storytelling at http://www.storycenter.org/stories/ to get a sense of the power of a digital story. To learn more about some educational applications, go to the Digital Storytelling web site at the University at Houston http://digitalstorytelling.coe.uh.edu/.
PowerPoint. PowerPoint presentation software can be used to create digital stories. Yet even people who know how to use the software often make serious mistakes in design and presentation. For a humorous presentation on these mistakes go to http://www.youtube.com/watch?v=8BP2HlNmRJ4.
Filamentality. A wonderful tool for teachers, Filamentality http://www.filamentality.com/wired/fil/ gives you templates to easily make "hotlists" of web resources that you can store online at their site and gain access to anytime or anyplace. It also allows you to see and use what many other teachers have already collected when searching for online resources. You can also create scrapbooks of multimedia resources.
Back to Top
---
---
Prepare for the Teacher Certification Exam
The Learning and Technology Resource Center will conduct its next Teacher Certification Examination test review sessions for the LAST, the CST: Multi-subject, and the CST:Special Education from November 4th to December 10th. Current and former CCNY students who are sitting for the December 13, 2009 examinations are encouraged to take advantage of these sessions. Classes will meet once a week and participants will review required content material, apply useful and effective strategies and gain insight into how to prepare for and pass these required examinations by instructors experienced with the content material. For a detailed schedule of the review sessions, please click here.
Back to Top
---
Questions and Answers from the Field
City College of New York School of Education students, faculty, alumni, educators in collaborating schools and friends of the School of Education are invited to ask and/or answer questions about classroom teaching. Send your questions to Dr. Bruce Billig, (bbillig@ccny.cuny.edu), Director of Field Experiences, who will moderate the discussions. Questions should provide enough detail about a situation or problem to allow for reasonable suggestions. To contribute ideas and to read what others have written, click on the link following this month's question. To answer, read the question below and click the grade level for which your answer is most appropriate.
November's Question: Many beginning teachers (and some experienced teachers) would like to know what best practices, ideas, points of view and resources exist to help one to become effective with classroom management. You may share either what has worked for you, your ideas, your point of view or any specific resources (i.e., books, articles, Internet, people) that might be valuable for improving classroom management.
TO RESPOND TO NOVEMBER'S QUESTION AND/OR TO READ WHAT OTHERS HAVE SUBMITTED, CLICK ON ONE OF THE LINKS BELOW
Back to Top
---
To Our Readers
If you read the October issue of CONNECTED, we hope you found it interesting! If you didn't receive it, you can find it archived online at http://www1.ccny.cuny.edu/prospective/education/community. We want to let newcomers know that this monthly, online news-blast is from the CCNY School of Education and is being sent not only to students, alumni and faculty, but also to teachers and administrators in collaborating schools and friends of the School of Education.
With best wishes for a healthy and happy Thanksgiving,
Doris Cintron, Acting Dean and
The CONNECTED Community Committee: Bruce Billig, Doris Grasserbauer, Joan Newman, Leonard Lewis, Stacia Pusey, Norman Shapiro, and Gareth Williams
Back to Top
---
Seeking School of Education Alumni
If you are in touch with alumni of the School of Education you can help us connect or reconnect with them. Please ask them to contact us at soe@ccny.cuny.edu to request our mailing. Also send any comments and suggestions you may have for future issues.
Back to Top
---
Calendar of Events at City College | CCNY School of Education
Layout and Design by Kurt Brown